In the United States ,62 per cent of households% of households from the President to ordinary citizens have pet dogs; in Paris, with a population of 2 million, there are 500000 dogs; in Japan, half of households have at least one pet, and now there are about 7 million cats and 10 million dogs; in Germany, almost every parent has a pet to raise children's love from an early age; and in our big cities, pet ownership is becoming more common.Pet nest materials have plastic, wood, integrated materials, due to the rise of wood plastic, using WPC materials as pet nest also began to become popular.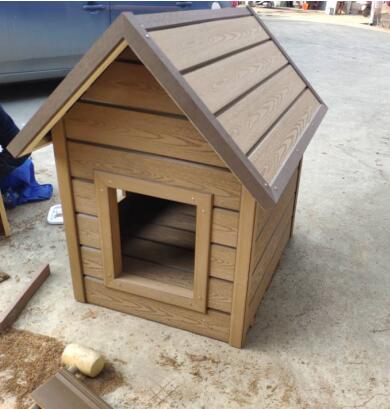 Plastic wood pet house can be placed in the indoor and outdoor, used as dog house, bird house, cat house and other pet houses, in recent years, the proportion of pet plastic wood house exports has been rising to meet the domestic and foreign markets. In particular, with the development of China's pet market, the accompanying mobile pet house will also be in the ascendant.
Advantages of WPC material:
Some data show that the proportion of pet families in Chinese cities is 10 %and the number of pets is as high as 250 million, of which cats and dogs account for the majority. Behind the hot pet is a hundred billion levels of sunrise industry —— pet market.In recent years, more and more entrepreneurs have worked with wood-plastic manufacturers to make unique pet nests.
WPC pet house has been accepted by the pet products market and widely used and sold.we Make a semi-finished product according to the size, send it to the customer, The customer completed the pet nest with simple installation.The current WPC house price is USD 150-300.WPC is a good choice for pet owners, as it has a variety of colors.