Composite Mosaic floor is an outdoor material that is squeezed out by a plastic and wood powder composite through an extruder and mounted on a plastic base .Its surface wood – plastic plate are colorful.And it can be co-extrusion board.The price of color splicing floor is not high , there is no keel support under the floor , the WPC board on the surface can be solid or hollow , it is really worth after use , the feet are very comfortable , seamless stitching.
Colorful Composite Mosaic can be used for garden, balconies , swimming pools , etc ,
WPC Mosaic decking material is a new type of environmentally, eco friendly and energy-saving composite materials, substitute for wood. our decking have wood texture design, with the features of simple, natural and beauty.
We have different color can be option,We can customize different colors and sizes according to customer requirements.
They can be used to decorate your balcony, patio, terrace, garden, swimming pool, playground, park or any places that needs to install very quickly and easy to replace.
Low-maintenance Easy-to-install DIY Tiles Outdoor WPC Decking Tiles
Hanming  DIY tiles require no tools nor accessories to install.
Their self-interlocking system will allow them to support each other and form a stable deck (on a flat surface).
Very easy to install, just connect them together. You can totally Do It Yourself!
Suitable for both private garden, balcony, terrace, patio and public walkway/platform.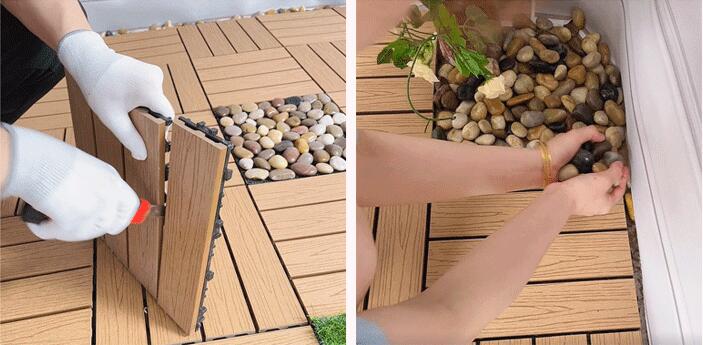 Characteristics Of WPC Mosaic Decking
1. Water and moisture resistance. The characteristic completely solve the problem that wooden materials easily decay, expand and deform. Therefore it can be used in many environment where traditional wooden materials can not be applied.
2. Colorful, many colors for option. Embodied with the sense of natural wood and wood texture, the color can also be customized according to clients different requirements.
3. High plasticity. It can easily be made for different personal styles, fully reflecting personality style.
4. Easy to install. There is no need for complicated construction process, saving installation time.
5. Anti-fading, weather and insect Resistance.
6. More eco-friendly and more durable compared to solid wood outdoor decking. It is 100% recyclable and can effectively reduce solar radiation.
Perfect for your garden, pool deck and Balcony, this WPC tile is very easy to use, installed quickly and gave excellent outlook. This is also weather resistant, waterproof, anti-slip, dimension stable and need less maintenance. Look like the natural wood, it brings the natural feelings to your building. 
Changxing Hanming Technology CO, LTD, located in Zhejiang Province,China. Hanming is specialized in producing WPC products with its strong capability of development and production. With advanced production lines and high capacity equipment, we produce many types of WPC products such as decking, railing&fence, outdoor flooring, recycled plastic umber, garden ornaments and so on.