WPC, that is, wood plastic composite materials,It is a new type of composite materials booming in China and abroad in recent years, the plastic and wood powder mixed according to a certain proportion after the thermal extrusion, it is called extrusion wood plastic composite Board.There are Many wood plastic series products, respectively wall board, floor, ceiling And other wpc products.Exterior wall cladding made of WPC can be used for house, villa,scenic spots,etc.
At the same time,WPC board has the wood sense of wood and the water anti-corrosion resistance characteristics of plastic, which is mainly used for outdoor buildings. Due to the durability, wear resistance and high environmental protection performance, the applications are becoming more and more extensive.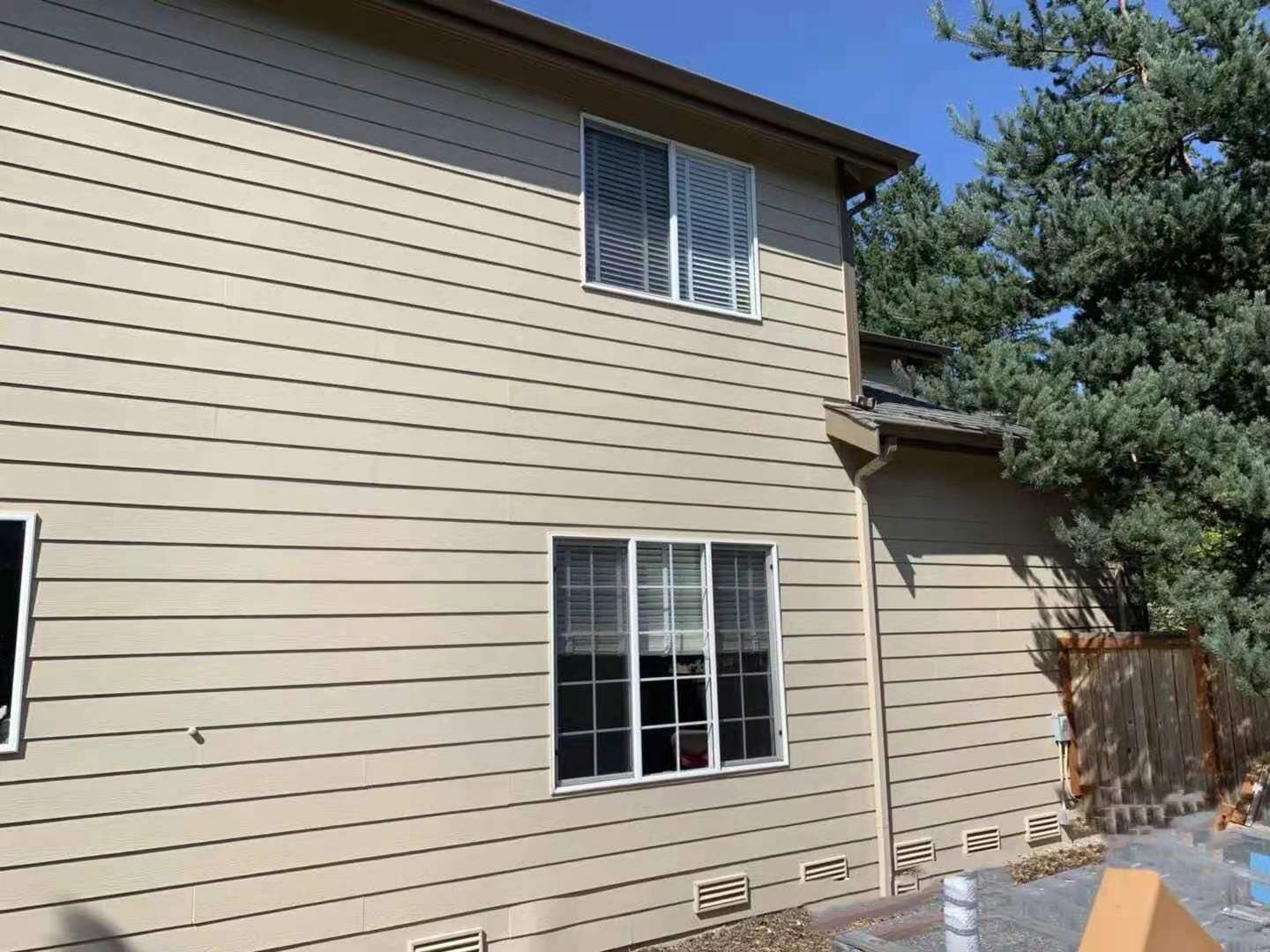 Advantages of Composite Wall Cladding from Hanming WPC :
High density
Our WPC wall panels are made of high-density polyethylene and hardwood fiber. It has good stability and strength compared to wood. WPC wall panels will not crack and distortion. It's suitable for the external wall.
Excellent performance
The WPC wall panels developed by Hanming has the properties of waterproof, anti – borer, corrosion resistance and so on. It is an ideal substitute for solid wood at present, and also has the function of thermal insulation and heat preservation.
Environmental protection
WPC wall panels are one of the most environmentally friendly flooring options. It is a renewable energy source that does not require any chemicals to produce, easy cleaning and low maintenance. Sustainable development, reproducible, and simple maintenance, it's indeed a very green environmental material.
How to install Exterior wall cladding made of WPC ?
WPC Board  exterior panels are generally fixed to the keel using stainless steel Clip or self-tapping screws.
1. When install the WPC wall board, fix the plastic wood keel (or galvanized square tube) to the wall with  nail; the keel spacing generally does not exceed 40cm;
2. Fixing the WPC exterior wall panel to the keel with a stainless steel Clip (or self-tapping screw),A 3-5mm gap shall be left between the two plastic wood exterior wall panels,To prevent the thermal expansion and cold shrinkage of plastic wood materials.
3.When installing SS screws, drill hole in the corresponding position first,Then tighten the SS screw again;In order to increase the grip force of the SS screw, the drilling diameter should be less than 3 / 4 of the screw diameter;
4. If connected with stainless steel Clip, Using rubber hammer to ensure the uniform clearance and the beauty of the whole construction surface;
5.After the construction., in the corner and other places, the sealing edge strip can be used to wrap and beautify, to prevent the external wall board scratches.
Eco friendly exterior wall cladding wood plastic composite wall panel
Name
Eco friendly exterior wall cladding
Material
WPC
Model Number
HM–23
Size
156*21mm
Color
Cedar,Red pine,Red wood,White,Coffee,Light grey,Blue Grey ,Art color
Hanming will make color per your special request.
Surface
Sanding, Brush, Embossing,3D Embossing
Feature
High strengh,low wear and tear,no deformation
Service life
15-25 years,Dimensional Stability
Composition
50% wood flour, 35-40% plastic (HDPE), 10-15% others additive
Certificates
 CE, ISO 90012008, SGS
Maintenance
Requires no painting, no glue, low maintenance.
We are a manufacturer which produces a new type of wood-plastic composite decoration material, and specializes in design,production and sales.
This kind of decoration material is a new, green, environmental-friendly and ecological product which is specially treated and made from RECECLED PLASTIC, HDPE and WOOD FIBRE. The decoration material is not only provided with the nature of wood feature, but also can be supplied for the varieties of color options to meet the customers' requirements. Meanwhile, our product also possesses
some other superior characteristics like keeping its shape, rot prevention, no cracking, fireproof, pest resistance, easy to install and no need to maintain and so on.