Now some outdoor floors in the market, often split, there are many people are asking, now what kind of outdoor floor material will be better? Today we will introduce some of the most common outdoor floor materials and characteristics.
1:Anti-corrosion treatment of outdoor floors
A material like this, in fact, a certain M.ACQ material is added to it.So it can make the drug penetrate deeper and keep the drug and the cells in the wood.In this way, the anticorrosion performance of wood flooring will be greatly improved, is a relatively safe water-soluble material.
2:Wood plastic composite (WPC )decking:
This kind of material is mainly made of plastic and some wood fibers. It is a new kind of environmental protection material. It has some characteristics of natural fiber material and plastic. Water resistance is also better. It is about 5 to 10 times higher than some ordinary materials. And the machinability of wood is also very high, later maintenance costs will be much smaller.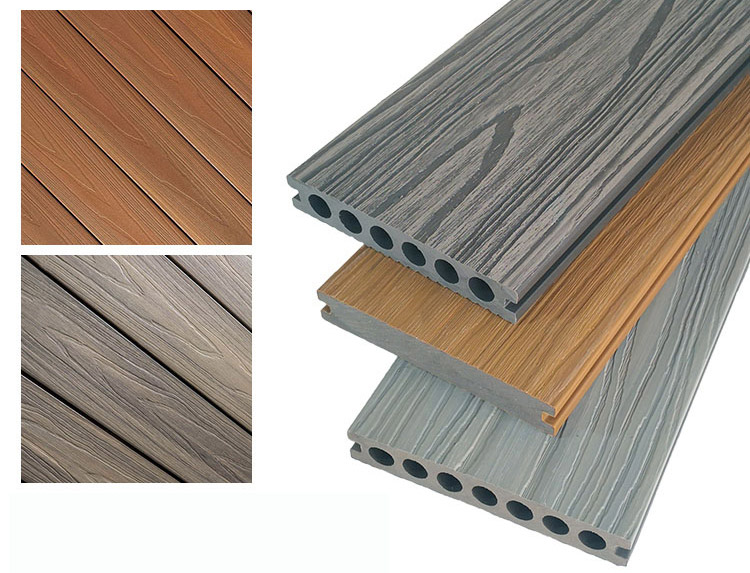 3. bamboo flooring
Bamboo flooring is a re-processing floor. Bamboo will be crushed into bamboo silk, and after carbonization, drying, soaking processing, and finally through high-pressure glue bonded together. This treatment of bamboo flooring has a very good moth-proof. But because of the carbonization treatment, the foot feeling is not particularly good, the cutting construction operation is complex, the anticorrosion service life is about 3-5 years.
4.Solid wood flooring
Solid wood flooring is used for outdoor decoration relatively less, The price of solid wood floor is still very expensive, and its wear resistance is poor, good quality solid wood floor surface even if has paint, its wear resistance is not very good, solid wood floor surface paint in the air easy to oxidize, lose luster, The color will darken.Solid wood does not resist impact, there are children at home or their own carelessness will drop heavy objects to the floor,This will pit the floor.