The WPC material is one of the better gate materials. It has a very good waterproof, UV protection, anticorrosion and other functions. But because of its expensive price, the general residents rarely use, currently mostly used in high-grade private villas,fencing system and gates.
WPC is a highly durable and secure material used for construction purposes.As its name might suggest, wood plastic composite (WPC) is a material created from a unique blend of natural wood and plastic fibers.
WPC (Wood Plastic Composite Boards) has 55% of virgin polymer and 35% of wood powder, and left 10% additive-chemical.WPC is utilized for decks, landscaping, floors, windows, fences, doors, rails, internal or external wall cladding.
In China and the United Kingdom &some other countries in Europe, making Gate with composite materials for villas, gardens, parks and other places have been everywhere, such WPC panks is mainly imported from Chinese manufacturers,The plate surface can be pressed with wood grain, in order to increase the sense of wood grain and aesthetic feeling.wood plastic panels is usually divided into hollow and solid plate.For gate planks, the hollow Item is fine.The thickness for gate plates is generally between 20 and 25mm and the length can be as desired.When customized, you can call the manufacturers to produce your favorite colors according to your needs. Generally speaking, the factory will have more than 5 colors to choose from.
Wood Plastic Composite Decking manufacturers & suppliers from China
Our WPC products include WPC decking, WPC deck tiles, WPC wall cladding, composite fencing, decking balustrade, composite pergola , composite bench, composite planter boxes, etc.Our WPC outdoor flooring are available in 8 attractive colors. And they can make your outdoor living space look stylish and elegant.
Advantages of  WPC Planks for Gate,Compared with wooden decking, WPC Decking is waterproof, fireproof, Soundproofing, termite-resistant anti-UV, weather-resistant, anti-corrosion, anti-termites, temperature resistant, long service life.
1.More natural visual effect: Perfect 3D wood grain texture on the composite decking with the latest pressing rollers and sanding methods;
2.More Anti-slip: Deep embossed textures is more anti-wearing and anti-fading. It is widely used in places near water or damp, such as outdoor space, swimming pool, dock, bypath, pavilion, platform, wall decoration.
3.Long-lasting wood grain: Deep embossed textures is more anti-wearing and anti-fading.
4.Longer life span: life more than 20 years.
5.High cost performance than wood decking: The initial investment of WPC products is slightly higher than wood. But due to low maintenance, moth resistance and long life, it is a very cost-effective choice for the entire service cycle.
6.Easy to intall: Custom sizes and shapes are available and can be cut, drilled or nailed. The installation is simple, and you can install it yourself without professional decoration personnel.
Wood plastic products can be used in garden landscape, internal and external wall decoration, floor, guardrail, flower boxes, pavilions and other places,Its service life is several times that of ordinary wood.Colors can also be adjusted according to the formula.Wood-plastic composites have gradually become the preferred alternative to wood.by 2022 in North America,WPC composite materials have account for 20% of the residential outdoor paving and fencing market.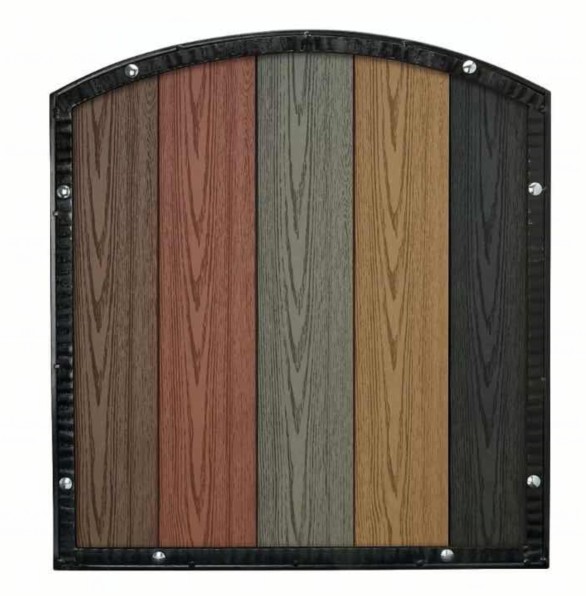 Changxing Hanming Technology Co., LTD It is one of the professional enterprises committed to the research and development, production, sales and service of wood-plastic outdoor gates and wood-plastic outdoor decoration materials in China.WPC planks not only has the sense of natural wood  grain, but also has environmental protection, zero formaldehyde, waterproof, moisture-proof, corrosion resistance and other advantages.It is widely used in Anhui, Zhejiang, Shanghai and other cities in China.Wood plastic material is the most green and environmentally friendly material, and the gates made with wood plastic material is certainly also the most environmentally friendly gates.